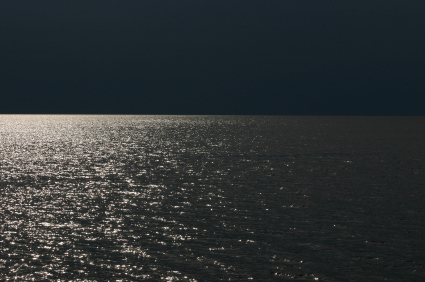 How long had she been sitting on the bench overlooking the lake, crying in a way that she had, quite literally, never cried before? When she finally began to compose herself, it was dark.
"Dammit," she muttered, as she searched her bag for a tissue. She could feel her eyelids swelling and her head was beginning to throb.
She looked out at the lake, bathed in moonlight now, and remembered the last time she sat on this very bench with him.
"I can't believe you're really going," she said softly.

"I have to," he said matter-of-factly.

"I know," she sighed, hoping that her tone did not give away how badly she wanted him to take her in his arms. "Have you told her that you're leaving?"

"You know that's over. Done," he reminded her. "I haven't seen or spoken to her in several weeks. She's seeing someone else and I heard that things are getting very serious between them."

She hoped that was true.

They sat quietly for a few minutes. Only the occasional chirping of a cricket broke the silence as the full moon's bright light reflected off the still surface of the lake.

"Well, I suppose we should get going. You have classes tomorrow morning," he said, rising from the bench upon which they had sat and talked on so many similar summer nights.

"Yes, it's getting late," she reluctantly agreed, wondering how much time would pass before they would be back in this place that she loved so much. Or if they would ever return. She knew that he might meet someone at his new college, fall in love, and . . . she couldn't even entertain the thought.

As they began walking along the shore of the lake, she knew that each step she took was bringing her close to the end of this chapter of her life. She stifled the urge to stop, throw her arms around him and tell him just how much she loved him, forcing herself to keep walking.

When they reached the car, he said, "I'll be back home for Thanksgiving, so I'll see you then."

She nodded and tried to smile but, as usual, when their eyes met, she felt as though he had the ability to stare into the depths of her soul, analyzing her emotions, one by one. His half-smile seemed to confirm that he knew everything about her, including the depth of her feelings for him. She was trembling as she got into his car.
As she began walking along that same path toward the same parking lot where she had left her car earlier in the afternoon, she wondered where he was at that moment, what he was doing. Was he happy? Did he ever think of her?
Reaching her car, she realized that she had left her cell phone on the console. There were three messages, all from the same number, identified in the address book merely as "Home."
"Swell," she muttered as she caught a glimpse of her reflection in the rear view mirror. Her hair was askance from the wind, her eyes and nose were indeed red and puffy, and she looked as exhausted as she suddenly felt.
Then she remembered the letter she had begun writing. A moment of panic was replaced by relief when she realized that she had stuffed the crumpled piece of paper back into her bag.
She sat in the car for several more minutes, staring at the cell phone screen and debating whether to listen to the voice mail messages. There would be questions about where she had been all afternoon, when she was coming home and, if she went home soon, her face would belie the fact that she had been crying. She felt too drained to concoct an explanation, so instead decided to remain in her car a while longer. Perhaps she would be able to write more freely here. Now.
But the notepad remained in her bag as she contemplated how her life had reached this point. How her life's journey had led her, after so many years, right back to this spot.
"Why did I let things reach this point?" she asked herself.
When she made the promise, she believed she could keep it. She intended to keep it. She wanted to keep it. But she now knew that, no matter what else happened, she could no longer keep the promise. And once again, tears began to roll down her cheeks as she removed her gloves and looked down at her left hand and the wedding ring she still wore.
Click here to read Chapter Five

This week's Writers Island prompt: "The Promise"