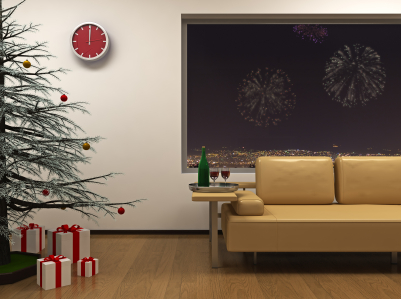 They never went to the party that New Year's Eve.
"Better late than never" he had toasted. As she gazed expectantly into his soft brown eyes, she found no answers to all of the questions running through her mind. Rather, she was met with the same bemused expression with which she was so familiar: The look that gave way to more questions, but seemed never to yield any answers. Perhaps tonight would be different, the start of a new chapter in their lives.
She was acutely aware that, as they stood there holding their wine glasses, on the precipice of a new year, they had reached a crossroad in their relationship. That knowledge made her knees slightly weak as the butterflies in her stomach fluttered uncontrollably.
Finally, she broke the silence. "Why don't we sit down?" she asked, gesturing toward the small living room.
And so they made themselves comfortable on the couch, talking about a wide variety of topics as the hours flew by. Listening to him, she thought of the old saying, "everything and nothing." It seemed that they talked about everything, everything and everyone, yet they talked about nothing at all because they did not discuss the one thing that mattered most to her: What did he mean when he wrote the inscription on his photo and proposed the toast: Better late than never . . . for what? Would tonight be the start of the kind of relationship with him that she had longed for and dreamed about for so many years?
Although she listened expectantly, he did not speak of love. He did not elaborate further on the inscription, toast or even his sudden appearance on her doorstep. He did not touch her. They sat on opposite ends of the couch, chatting precisely as old friends catching up do.
Before they knew it, the wine was gone.
"Wow, we polished that off, didn't we?" he chuckled. "I don't think we're going to make it to the party unless we can walk to your friend's apartment. I can't drive there."
"I sure can't," she agreed. "And no, it's too far to walk. Oh, well . . . I'll send my regrets later. Looks like I got all dressed up and ended up having nowhere to go!"
"Well, your efforts weren't wasted," he said, suddenly serious. "You look great."
"Really?" she replied with genuine surprise. "You think so?"
"Yes, I do," he said softly. "I think you look beautiful tonight."
She was speechless. In all the years she had known him, he had never complimented her on her appearance. He had never referred to her as even "pretty," much less "beautiful."
As she studied his face, she realized that she was slightly light-headed, a combined effect of the wine and his unexpected presence.
"You know what?" she finally asked. "We never ate dinner! Let me see what I can throw together." She jumped up from the couch and purposefully strode to the kitchen, flushed and slightly dizzy. "I need food," she muttered to herself.
"That sounds good," he responded. "I am getting hungry. I'll put on some music."
"That's a good idea," she agreed, "since we're going to be staying in tonight. Might as well get comfortable, too," she added as she removed her high-heeled sandals and jacket, and released her long hair that had been secured in an up-do for the evening.
They enjoyed a light supper and another bottle of wine as the evening flew by. She relaxed and enjoyed being with him. At some point after the second bottle of wine was uncorked, she resolved to savor the hours they were spending together and worry later about the status of their relationship. "He's here now," she told herself when the familiar doubts and fears began creeping back, "and he's still my treasure. I can't fight my feelings."
"Oh, my gosh! It's almost midnight already," she exclaimed when she glanced up at the clock while placing the dinner dishes in the sink. "I think that calls for some more music, don't you?" she asked playfully as she ambled back into the living room toward the stereo.
"Absolutely," he concurred from the couch where he had again settled comfortably after dinner.
"Anything special you'd like to hear?" she inquired, her back to him as she perused her collection of CD's.
"Whatever you pick will be just fine," he replied.
She decided upon a classic tune from their high school years — a song she loved that made her think of him until the day the woman with the dark heart told her a story that made her never want to hear it again. And until this night, she had refrained from listening to it, quickly switching to another station if she heard it on the radio. They had danced to the song. Thankfully, she did not see them dancing because she spent that evening with a group of friends who, like her, were not attending their school's prom. He had escorted the woman with the dark heart to the dance that year.
But now he was about to ring in the New Year with her and her hopefulness about that made her eager to again hear the song's words and lush, romantic melody. She lingered in front of the stereo for a few moments as Stephen Bishop sang, "Something's telling me it might be you, all of my life . . . " Finally, she turned to rejoin him on the couch.
She had been so mesmerized by the music that she had not heard him get up from the couch and walk toward her. As she turned, she found him standing right behind her. Without saying a word, he caught her in his arms and before she realized what was happening, pressed his mouth upon hers.
Click here to read Chapter Fourteen
This week's Writer's Island prompt: "Crossroad"