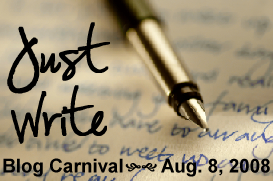 Welcome to the Just Write Blog Carnival, featuring a diverse and information-packed collection of articles about the various aspects of writing. Be sure to convey your appreciation to the participants by joining in the discussion at their respective sites and submitting their work to your favorite social networking groups. Enjoy!
Book Reviews
Christina M. Rau presents Chris Martin The Thief posted at Livin' The Dream (One Loser at a Time), which she describes as a "good book with a kitschy cover."
Alessandra presents Book Review: Lock and Key posted at Out of the Blue, exploring the themes of family and change.
Encouragement for Writers
JHS, Esq. presents If a writer writes . . . posted at Colloquium.
Toni presents These hands were made for writing posted at Wifely Steps. She believes that "typing your thoughts out is great, but writing your thoughts out by hand is best."
Mark David Gerson presents The Voice of Your Muse: Birthing a Book I posted at The Voice of Your Muse.
Freelance
Amy Munnell presents Website Wants You . . . to Write How-To posted at 3 Questions and Answers, a look at eHowcom and its call for writers of how-to articles.
Allison Nazarian presents Copywriting: What Is It and Why Should You Care? (Part 1 of 2) posted at CopywritingForVAs. "As a Virtual Assistant," Allison writes, "understanding copywriting is important for two key reasons: You need to promote your Virtual Assistant business, and, ideally, be able to write effective copy for your own website, brochure, and other marketing materials."
Laurie Pawlik-Kienlen presents Pitching Your Freelance Article to Magazines: How to Sell What You Write posted at Quips and Tips for Freelance Writers, offering seven tips on pitching articles to editors, plus a very short example of a professional query letter.
Sharon Hurley Hall presents Are You Invisible? posted at Get Paid to Write Online. According to Sharon, "finding success as a freelance writer is about many things: writing skills, communication skills, punctuality and much more. But none of that will do you a bit of good if clients can't find you."
Love Affair With Words
Jim Murdoch presents The Joy of Libraries posted at The Truth About Lies, a humorous look at the changing place of libraries in our lives.
Brian Jay Stanley presents The Melodrama of Young Writers posted at Aphorisms and Paradoxes.
Poetry
Patricia Twitchell presents The Adventures of Penny Pincher: Penny Pincher Helps Patricia with Her Gardening posted at Just Bears and Stuff. Patricia loves to spend time in her garden. She spends a lot of time planting colorful and fragrant flowers, and people passing by admire the beautiful garden. Read about how Penny Pincher helps Patricia.
Ella Moss presents Of God and Her posted at Zodiac Times that she describes as "a little gem — enjoyable and inspiring."
Publishing
Riley presents Interview With an Editor posted at All Rileyed Up, a discussion with a literary journal editor.
GrrlScientist presents Harry Potter's The Tales of Beedle the Bard to be Published posted at Living the Scientific Life. The Tales of Beedle the Bard was first mentioned in Harry Potter and the Deathly Hallows. Now it is being published December 4, 2008 — just in time for the holiday gift-giving.
The Writing Life
Stephen presents MMA – The Ultimate Reality TV posted at MMA Bulletin.
Heather Johnson presents Guest Post: Improve Your Reading Habits posted at Dallas Woodburn's Writing Life.
Janice Campbell presents Writing Evaluator Member of the Month- Troy Howell posted at NAIWE NewsWire. In this interview with freelance writer Troy Howell, readers get a glimpse into the life of a freelance writer from the perspective of a more than twenty-five year veteran writing, illustrator, and manuscript evaluator. Even with all he has accomplished, Howell is still, according to Janice, "growing, changing, and adapting.
Tracy Cooper-Posey presents Is It Worth Getting An Agent? – Foundation Series posted at Anchored Authors.
Amy Munnell presents Interview . . . with journalist/novelist Janice Harayda posted at 3 Questions and Answers. Harayda reveals how she juggles her job as a book critic and her life as a novelist.
Writing Mechanics
Jim Murdoch presents Poetry and art (part one) posted at The Truth About Lies, the first of a three-part series of articles.
Amy Munnell presents Virtual Book Tour . . . author Bill Frederick posted at 3 Questions and Answers. The author answers questions from readers about his new book, virtual book tours, and e-book publishing.
Writing Resources
Fiona King presents 50 Must-Have Firefox Extensions for Writers posted at Best Colleges Online.
Kathleen Gage presents Attention Authors! Sell Lots of Books with Teleseminars! posted at Street Smarts Marketing & Promotions. Authors dream of selling lots of books, becoming well known — achieving celebrity status — and earning a fortune. But most will never succeed because they do not know how to develop and implement an effective publicity plan. This article describes an effective marketing strategy.
Writing Tips
mediamonkey presents How to write a bibliography: Bibliography tips posted at How to: Tips and Tricks, a step by step guide.
KD Choi presents Say It Ain't So: Grammar Rules You Can Break posted at Miss Write.
debergerac78 presents Editing for Money III – oDesk Insider posted at oDesk Insider, noting that "successful editing means bridging the gap between what your employer wants and what you feel the target audience needs."
Steve Osborne presents Walk Your Way to Better Writing posted at The Writers Bag com.
Erin Straza presents writers bloc: Getting My Welcome Mats in a Row (i.e., How to Create a Writer's Reference System) posted at Filling My Patch of Sky.
Amy Munnell presents Want to Write Full Time? 3 Questions You Need to Answer posted at 3 Questions and Answers, offering "tips for a successful transition from a part-time to full-time writing career."

A big "thank you" goes to all the writers who participated in this wonderful edition!
If you would like to submit an article for next week's edition or peruse the carnival archive, click here.
Interested in hosting a future edition? Send a message to Missy!