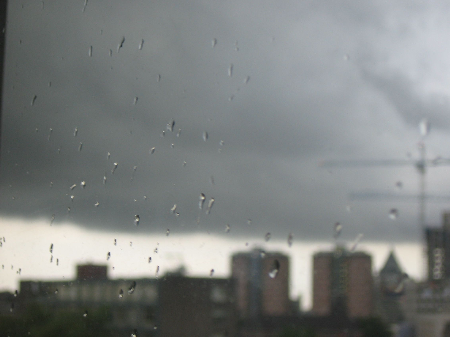 When she walked into her new apartment for the first time, she burst into tears as a plethora of emotions rushed over her. Alone with Timmy in a city with which she was completely unfamiliar and where the only person with whom she was acquainted was the kind stranger who had met them at the bus depot and escorted them to the housing project, she considered her sparsely furnished new home.
Sitting down in the overstuffed chair next to the living room window, she took a deep breath and quickly dabbed her face with a tissue so that Timmy would not see her cry. A huge black cloud hung over the city, just moments from unleashing more pounding, bitterly cold rain. As she gazed through the dirty, wet windowpane, all she could see in every direction were more apartment buildings as ugly and nondescript as the structure in which she found herself now residing.
Pulling Timmy onto her lap, she held him tightly as they sat quietly for a few moments watching the rain begin again in earnest. She could barely believe that the two of them would be spending Christmas in this drab, rundown building in this dreary city on the opposite side of the country from the only home she had ever known.

The first time Jake hit her, she was shocked, but convinced that it was her fault. She truly believed that had she not insisted on discussing her frustrations and anger with him on that evening when he was tired and had spent several hours at the local bar after work — which was the crux of the problem, of course — the conversation would have proceeded very differently and not culminated in his slapping her across the side of her face. He apologized profusely for striking her, promising that it would never happen again. She knew that he was genuinely ashamed of his behavior. Still, she cried and asked for his forgiveness, insisting that the argument and ensuing violence had both been her fault.
When they met, she was young, inexperienced, and naive. On their wedding day, she moved out of her parents' house and established a new home with him. Her father was a quiet man, her mother a soft-spoken bookkeeper. The only child of two only children, she grew up in a quintessentially unremarkable American household where she was the sole focus and recipient of her parents' love, attention, and hope. Because she had no uncles, aunts or cousins, she was extremely close to her parents and grandparents — they were everything to her — as she was to them.
In the blink of an eye, Jake had swept her off her feet, much to her family's disappointment. Eight years her senior, he was ruggedly handsome, charming, and driven to be a "self-made" man, forging a successful San Francisco construction company from nothing more than a beat-up pickup truck, charisma, and determination. He was well aware that many of his female clients hired him even though his bids were not the lowest they received. He flirted with them and worked the fact that he was unmarried into discussions about how they wanted him to remodel their dining rooms in time for the holidays or build them a backyard gazebo before the first bar-b-que of the summer. Before long, he had built a thriving business on referrals from one bored society housewife to another. From that foundation, he was able to expand, purchasing equipment, hiring employees, and winning increasingly-valuable and high-profile bids.
They met when he was overseeing the renovation of the historic building in which her mother worked. The large accounting firm had acquired the Victorian-era home and sought to convert it into an office while retaining its original architectural design. For his young company, winning the bid over larger, more established firms was a major coup. He knew that the successful completion of this job would catapult his company — and him — into a completely different league of successful construction companies.
She stopped by after her classes at the local university to see her mother. Jake was inspecting his employees' work on the front facade of the building and, when he turned to see her running up the steps, was instantly mesmerized. She was the most exquisite young woman he had ever seen and, in that instant, knew that the universe had just assigned a finite number to the days he would remain a bachelor. Before that day, he had never given any thought to whether or not he believed in love at first sight. Later, he would tell friends and family that the sight of her on that spring afternoon made him a believer.
Her family did not approve, but refrained from giving voice to their concerns lest they drive her away from them. They were dismayed when she dropped out of college, but outwardly supported her decision and, of course, doted on Timmy. They suspected that something was terribly wrong, but she never told them above Jake's increasingly-serious drinking or abuse so they maintained their silence.
But eventually, she knew that if she stayed with Jake, he would inevitably start hitting Timmy, too, and she could not let that happen. She was determined to protect him, no matter the personal cost.
She no longer believed Jake's apologies. She knew that he loved her, but could not control the rage that overtook him when he drank. She had given up hoping against hope that he would either quit drinking on his own or seek help. Instead, he began spending more and more time hanging out in the neighborhood bar after work with his employees — and less and less time with her and Timmy. She dared not mention his behavior for fear of igniting his anger. But over time, it didn't matter whether she broached the subject or not. They fought anyway. Jake knew how unhappy she was because he was even more miserable — with himself.
One summer night, after a particularly brutal disagreement during which she sustained a black eye, as well as numerous scrapes and bruises on her arms, legs, and upper torso, she accepted the knowledge that she and Timmy had to leave Jake. She was calm and unemotional as she gazed at her reflection in the bathroom mirror, trying to cover the marks with makeup before Timmy awoke and saw them. She was neither distraught nor sorrowful. In fact, she was surprised by the matter-of-fact manner in which she made her decision, only later understanding that she felt, at that moment, as nothing more than a casual observer of her own life because she was already emotionally spent. She made up her mind that the next morning, after dropping Timmy at school, she would go to the local shelter for battered women and seek their assistance.
To be continued . . .