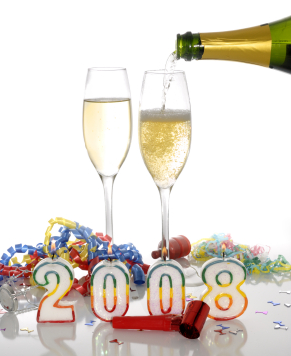 The champagne is on ice, the hors d' oeuvres will be ready to serve shortly, there are noisemakers, silly hats, and confetti for all the guests, and the orchestra is tuning up. Hear them?
You obviously received your invitation because here you are! And you're wearing your most festive attire! Wonderful! The New Year's festivities are getting underway!
Holiday Themes
From Dawn: So that was Christmas at Mama's Coffee Break. Noisy toys, an ex, ex-in-laws . . . they're enough to make Dawn glad Christmas only comes once a year!
From greeneyes: New Traditions at Blog Pudding illustrates that there are infinite different ways to celebrate the Season.
From Mom in Training: Warm Christmas at the Parenting Diaries is a discussion of Christmas traditions in a warm climate. "Whoever gave most people the idea that Christmas is only made up of snow and cold, winter nights spent in front of the fireplace while waiting for Santa?"
From Raymond: Merry Christmas 2007! – Remembering My Favorite Presents Received From Past To Present at Money Blue Book. Certain gifts provide lessons about life, especially the furry variety.
From Saedel: Christmas Isn't All About Material Things at Planet Saedel. Children mirror adult behavior. If they are exhibiting materialistic attitudes about Christmas, perhaps we need to re-evaluate the lessons we are teaching them.
From Stephanie: Last Minute Gift Ideas at Unclaimed Money. Still need to pick up a gift or two? Here are some great suggestions.
From Terri Mauro: Five Things We Did Right This Christmas at Terri's Special Children Blog. Terri invites you to share your triumphs and failures, offering techniques that helped you and your family survive Christmas.
Family Relationships
From Carole G. McKay: Dutch Diplomat Has Immunity From Compassion at McKay Today, explaining that "the misguided actions of others can be a lesson and reminder about the preciousness of children and what real commitment means."
From Miscellaneous Mum: Appreciating Australian Poetry – Gwen Harwood at Miscellaneous Adventures of an Aussie Mum. Sometimes time — and motherhood — can provide a totally new perspective and appreciation of another's viewpoint.
From Louise Manning: Paper-chains at The Human Imprint discusses teamwork within the context of making paper chains with which to decorate for the holidays.
From Ranae: Lasting Value at Life Nurturing Education. Sometimes we have to make hard choices, but keeping what is really important — an lasting — in perspective makes it easier.
Family Finance
From Abel Cheng: What to Teach Children about Credit Cards at Parent Wonder.
From Hill Robertson: Turn Your Passion Into Your Profit at Hill Robertson.
From Linsey: Allowance and Kids: Teaching the Value of Money at Parenting Squad.
Family Health and Wellness
From Stephanie: Basics in My Refrigerator at Stop the Ride! is a helpful list of staples to keep on hand at all times especially if you have teen-agers who get hungry at all hours and frequently want snacks.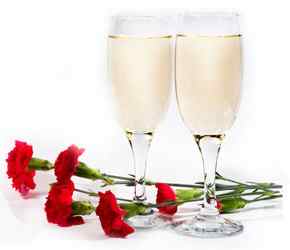 From Alex Blackwell: Ask for What You Want at The Next 45 Years, encouraging readers to "make the commitment to announce to the Universe what has been inside of you for a very long time."Julie Heath presents Best Pregnancy Websites posted at Julie Heath – More4kids Inc..
From Aparna: Sleeping for long hours is not good for health at Beauty and Personality Grooming. She says that an insufficient amount of sleep or long term sleep deprivation is detrimental to one's health, and insomnia is by far the most talked about and discussed sleep disorder, while excessive sleep and its effects on health rarely get much attention.
From Patricia: Best Pregnancy Websites at More 4 Kids, an excellent list of resource sites providing information and guidance.
From Michelle: The Research Continues to Come In — Organic is Better! at Modern Sage. Read why she challenges her readers to utilize only organically produced foods.
From Super Saver: Having A Three Year Old Keeps Us Young at My Wealth Builder. There are a number of benefits to be derived from experiencing parenthood in your 40's!
Family Humor
From Alison: The Screaming Child Tax at This Wasn't in the Plan. Every parent has had days like Alison's.
From Laura, aka the Master Juggler: What Goes Around Comes Around at Adventures in Juggling. It's a "momily" that every parent can relate to.
From Keith R.: Creativity Begins Here at skillzdesign.com which he describes as "swimming with scissors."
From Seabird: A Roto-Rooter Christmas at SeaBird Chronicles. Six adults, one bathroom, four days.
From TherapyDoc: Kids at the Movies: ALVIN! at Everyone Needs Therapy. It is really important for parents to consider what their child's reaction will be to sounds and images on movie screens. Just because the advertising agency believes a movie is appropriate for children doesn't mean it will be appropriate for your child.
From Wendy Wallace: Do you know the sausage man? at Let the dog in! Her husband decided to make "beef jerky with a side of sausage." The result: "Meaty moo bits. Everywhere." Pictures included!
Family Pets
From Lylah Ledner: When good dogs die at wife, mom, nana, daughter, sister, friend, disciple-maker is a touching series of three posts about doing what is right for our beloved pets, knowing when it is time to let go, and what we learn from the experience.
Family Crafts and Activities
From Fussy Fussypants: Kid Clutter Control Thrifty Style at Mrs. Fussypants' Guide to Life, offering a very clever and attractive storage solution.
From Karen Dowell: Are the kids driving you mad over the Christmas break? at Wiggly Wigglers, explaining how to keep them busy making bird cake.
From Jennifer: Winter Fun at Diary of 1 can include ice skating!
From HowToMe: How to Have a "High-Tech" Food Fight at HowToMe. Learn how to construct marshmallow blasters and have an exciting food fight in the living room. One family found it a funny way to unwind, laugh at their mistakes, and even eat a few marshmallows!
From the team: How to Make Your Own 2008 Free Desk Top Calendar at Home Life Weekly.
Parenting Tips and Advice
From Lin Burress: Technology and Children – A Wake Up Call For Parents at Telling It Like It Is. Every parent should read — and heed — Lin's advice.
From Cathy, aka Chief Family Officer: What do you do with old toys? at CFO: Chief Family Officer, a collection of suggested way to dispose of toys your children have outgrown or tired of playing with.
From Lori Prokop: Do Your Children Have Negative Self-talk? at Paula Fellingham – Stay at Home Moms. How should a parent help a child who engages in negative self-talk? Read this expert's recommendation.
From Veteran Military Wife: Why We Don't Follow Through Disciplining Our Kids and What We Can Do About It at Life Lessons of a Military Wife. She offers advice on setting appropriate examples and boundaries for children.
From The Tip Diva: Top Ten Tips — Babysitting Basics at Tip Diva, a how-to-be-prepared guide for potential babysitters.
Fiction
Yet again, I am the only writer who contributed a work of fiction to the Carnival! Where have all the fiction writers gone? My multi-part story, The Letter, continues with Part Nine.
Well, the party's over . . . for this year, anyway! Thanks for joining in the fun!