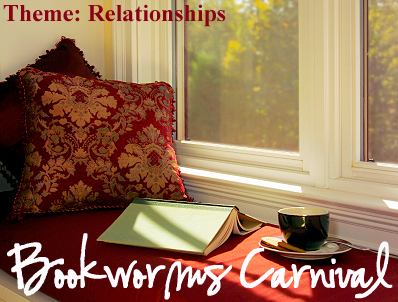 Welcome to the July Bookworms Carnival, the monthly event that strives to build and unite a community of bloggers through their mutual love of literature.
This month's theme is "Relationships" and the participants in this edition have provided thoughtful, articulate, and honest reviews of books focused upon that topic:
Dewey presents One Whole and Perfect Day at The Hidden Side of a Leaf , a review of Judith Clark's 2008 Printz Honor book by the same title. He enjoyed the characterizations, but takes issue with the narration style.
SmallWorld Reads presents a review of one of my all-time favorite books, To Kill a Mockingbird by Harper Lee at SmallWorld Reads. Savor the quotes she shares . . . they will make you want to read the book again and again, as she has.
Rebecca Reid presents a review of The Age of Innocence by Edith Wharton at Rebecca Reads, finding the overarching theme of a story set in 1870's New York relevant to and for today's readers.
Wendy discusses books that "capture the essence of female friendships" at caribousmom. She includes Talk Before Sleep by Elizabeth Berg (one of my favorite authors) and three others that are now on my "to read" list.
Florinda reviews Firefly Lane at The 3 R's: Reading, 'Riting, and Randomness. She found it "compelling, in a melodramatic, Lifetime-movie sense."
Florinda also reviews The Ruins of California at The 3 R's: Reading, 'Riting, and Randomness. She enjoyed the "growing-up story" of the Ruin family in California "during the years following the dislocating events of the 1960's when much of society itself seemed to be in ruins, and California's reputation for being the leading edge of rule-breaking loose living and general oddity was being honed."
Allessandra read The Pickup at Out of the Blue in conjunction with the Read the Nobels challenge. "Nadine Gordimer portrays [a cross-cultural} relationship between two people of different culture, who have a strong physical attraction, but cannot understand each other completely."
Allessandra also reviews Family Matters by Rohinton Mistry at Out of the Blue. She describes it as a compelling family saga about relationships and holding grudges set against the "backdrop of India's personal and political corruption, ethnic and religious divisions, and the danger of negating memories."
Heather reviews Gap Creek by Robert Morgan at Book Addiction. The story of the marriage of Julie and Hank, set in late 1800's Appalachia, emphasizes timeless partnership parallels. Heather struggled with the dialectical narration and seemingly abandoned plot points, but found it, overall, a worthwhile read.
Becky reviews Artichoke's Heart by Suzanne Supplee at Becky's Book Reviews. The narrator, Rosemary Goode, is struggling with her weight, but the story is, of course, "just as much about family–dysfunctional and strange and lovable–as it is about weight." Becky says, "I love, love, love this one."
Chris begins her review of Ask Again Later by Jill M. Davis with "Hurray! I finished a book!" explaining that she took a break from reading Jane Austen to enjoy a "change of pace and easy read" about a kooky lawyer and her "dysfunctionally ordinary family" from one of David Letterman's former writers.
Speaking of Jane Austen, Melissa confesses about Pride and Prejudice, "I used to say that I read it annually, that it was my favorite Jane Austen. Honestly, though: I don't, and it's not." However, she appreciates Austen's humor and, in her review at Book Nut, concludes that it is "truly a perfect book to read on a hot, summer day."
Bluestocking usually reads only fiction in order to escape the pressures of her life as an attorney. However, she made an exception with Waterwalk: A Passage of Ghosts by Steven Faulkner at The Bluestocking Guide. She was "intrigu[ed]" with the techniques employed by the author to tell the story of a man and his son "re-discover[ing] the Mississippi River following in the footsteps of French explorers Marquette and Joliet."
Teddy found Late Nights on Air by Elizabeth Hay Deeply Moving and True to Life. The characters are "richly-textured" and "come to life," causing Teddy to feel "as if I was part of the book as I was reading it." The work is a Giller Prize winner and "must-read" for those who love "literary fiction, fine character studies, and historical fiction alike.

The August 2008 Bookworms Carnival will be hosted by Florinda at The 3 R's: Reading, 'Riting, and Randomness. The theme is "You're Never Too Old – Children's and Young-Adult Literature." The guidelines are posted here.